PAST RESULTS
Top Finishes and Championship Titles
2022
2022 US Women's Amateur Round of 64 Match Play
2022 AJGA Ping Invitational Champion
Final Score: 72-68-71
USGA US Junior Girls Championship
July 18-23, 2022 | Scores: Match Play | Runner-Up
Girls Rolex Championship
June 20-24, 2022 | Runner-Up
The Dustin Johnson World Junior Presented by LA Golf
March 4 – 6, 2022 | Scores: 74/72/75 | T-3rd Place
The Junior Invitational at Sage Valley | March 4 – 6, 2022 | Scores: 70/72/72 | 4th Place
Women's South Atlantic Amateur (The Sally) T-4th (73/75/73/69)
2021
Dixie Women's Amateur 7th (73/64/73/74)
Sally Women's Amateur 13th (74-71-74-80)
Dustin Johnson World Junior T-5 (70-80-77)
Kathy Whitworth Invitational T26 (78-72)
AJGA KJ Choi Open 5th (76-73)
USGA Women's 4 Ball Co-Medalist and Semifinalist
2021 Hurricane 54 Hole College Prep at Kent State Champion (71-67-66)
2021 Kansas State Junior Champion (70-68-69)
2021 AJGA Rolex Girls Invitational T-17(75-74-73-74)
2021 AJGA Stacy Lewis Invitational 3rd (74-75-73)
2021 AJGA Big Sky Champion (70-66-64)
2021 AJGA UHY Albany Junior 3rd (69-72-72)
2020
Harder Hall Women's Invitational T14
Sally Women's Amateur Championship T28
Golfweek at Avalon Lakes Runner-up (70-71)
Hurricane 54 hole College Prep Champion (71-75-71)
Kansas Junior Runner-up (71-70-69)
AJGA Open at Boyne Highlands Champion (70-69-73)
OH Junior Girls Runner Up (72-20)
Western Amateur Match Play Qualifier (75-71)
AJGA Natural Resources Open T-6 (72-71-72)
AJGA Justin Thomas Open 5th (73-70-70)
AJGA Sanford Junior Open 2nd (77-70)
AJGA Junior at Innisbrook 8th (71-75-82)
AJGA PING Invitational T-15 (74-73-77)
AJGA Rolex Tournament of Champions T-11 (74-71-72-73)
Dixie Amateur T-5 (71-78-68-71)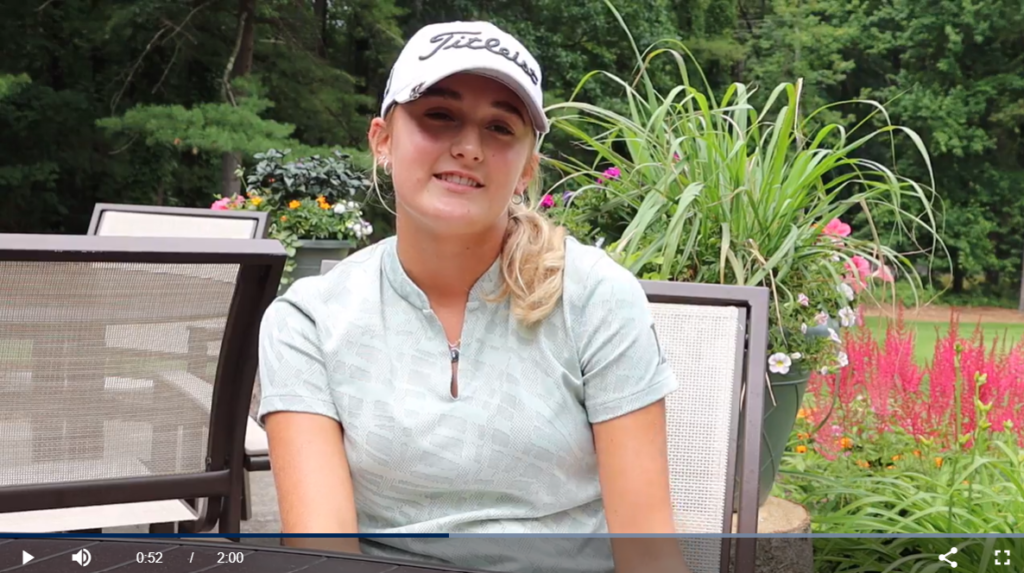 14-YEAR-OLD CLEMENTE STEPS UP TO THE BIG STAGE
Gianna Clemente earned one of the two sponsor invites to play in the Twin Bridges Championship this week. The 14-year-old will tee it up in Albany, New York as the youngest player in the field.
"When I found out I got the exemption, I was really excited," said Clemente. "I'm really excited about this week, to see the course and have some fun."
The Floridian plays on one of the biggest junior golf tours, the American Junior Golf Association. Currently No. 6 in the Rolex AJGA Rankings, Clemente has five top-10 finishes on the 2022 season, including solo third at the K.J. Choi Foundation Texas Junior Championship presented by Mediheal and sixth at the KPMG Stacy Lewis Junior All-Star Invitational. Most recently Clemente finished second at the Rolex Girls Junior Championship.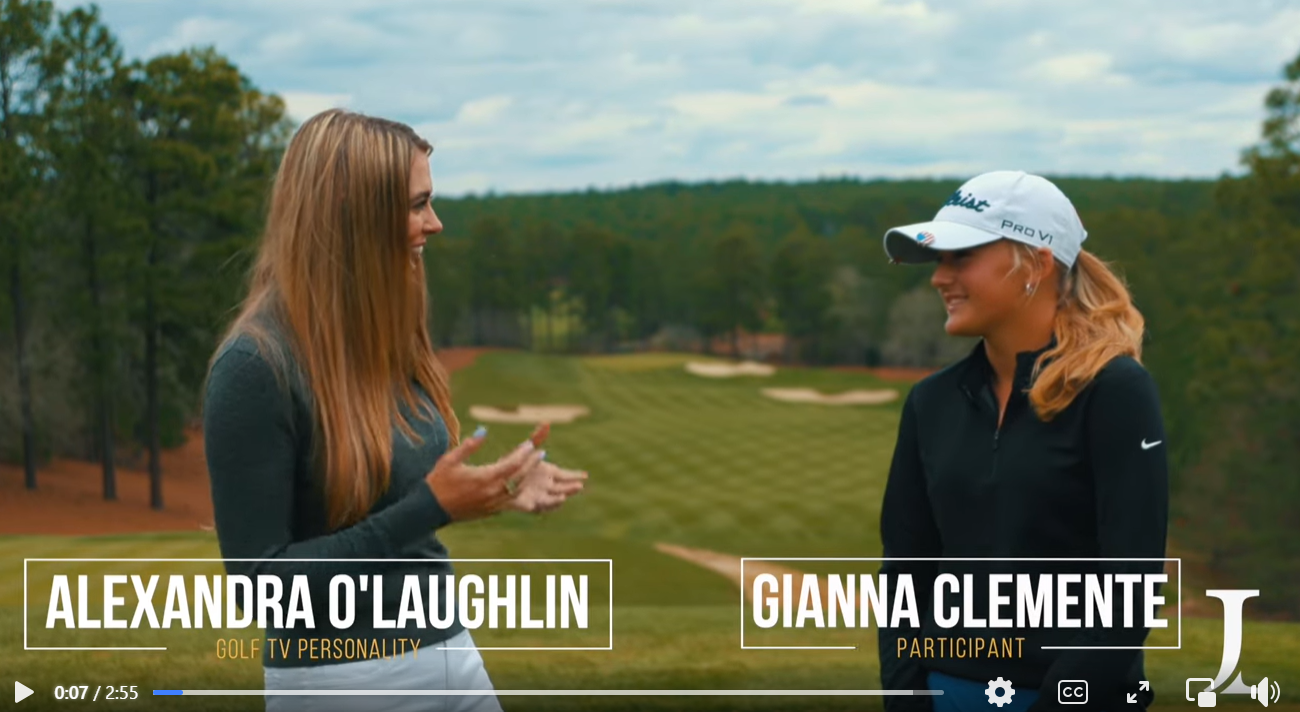 Clemente turns up the heat at Palm Aire
Showing all of the skills of a two-time AJGA All-American, Clemente carded a 7-under round of 64 on Friday at Palm Aire Country Club. At 5-under 134 for the tournament, she enjoys a one-stroke lead over Latanna Stone and Angela Arora, who shot rounds of 69 and 68, respectively, to move to 4-under 138 at the 36-hole mark of the tournament.
Clemente, who had two wins among her six top-five finishes on the AJGA circuit in 2021, collected birdies on holes 2, 4 and 6 to make the turn at 33 and then picked up four more birdies on her inward nine, including one on the closing hole, for a round of 64.
Scores: 73/64/73/74  | 7th Place
19 (Age 10-11)
Kathy Whitworth Invitational T-27 | 15 – 18 Division (77/74)

 SALLY Women's Am 28th place | 

(75/78/78/77)

Harder Hall Womens Am 14th place | (78/80/75/79)
HJGT National Championship Runner-up14-18 Division (72/73)
Optimist Tourn of Champions 3rd place |15-18 Division (72/73)
Golfweek International Jr Invitational T-6 | 15-18 Division (69/75)
FJT at Lost Key 1st place | 15-18 Division (71/72)
GSGA at Nob North Champion | 18u Division (73/73)
US Womens Am Qualifier Fords Colony 2nd place | (71)
Ohio Girls Jr 6th place | 15- 18 Division (73/76)

Pennsylvania Girls Jr 5th place | 

15-18 Division (77-74)
FJT at Ocala Runner-up | 11-12 Division (68-71)
FJT at Tallahassee Champion | 13-15 Division (71-72)
GSGA Junior Tour at River Forest Champion | 18U Division (72-75)
Golfweek at Windmill Lakes Runner-up 15-18 Division (75-76)
Golfweek West Coast Invitational Runner-up  15-19 Division (70-74)
2018 (Age 9-10)
Honda Junior Classic Champion at PGA National 11-12 Division (72-72)
Florida Junior Tour Champion at Palatka CC 9-10 Division (74-72)
HJGT South Florida Junior Champion U13 Division (75-75)
HJGT 54 Hole Challenge at Innisbrook Champion U13 Division (77-78-72)
HJGT Orlando Junior Shootout Champion U13 Division (73-72)
HJGT Saddlebrook Junior Open Champion U13 Division (75-72)
Peachtree Junior Open Champion 11-12 Division (77-79)
HJGT College Prep at UVA Champion U13 Division (78-79)
HJGT Major at Buffalo Grove Runner-up 14018 Division (74-76)
HJGT Major at the Architects Champion U13 Division (69-75)
IMG Junior World Championships Champion 9-10 Division (69-72-72)
FCG World Championship T-3 11-12 Division (72-74-74)
USKIDS World Championships Champion 10 Division (67-63)
HJGT New Jersey Open Champion U13 Division (73-69) *HJGT Major Championship at Bryan Park Champion U13 Division (76-71)
2017 (Age 8-9)
US Kids Desert Shootout Regional Champion – girls 8 under
2017 Peachtree Open Champion 11-12 Division
Hurricane Jr Golf Tour Champion at Columbus Jr. Shootout 13U Division
Hurricane Jr Golf Major Champion at Little Mountain 13U division
Runner up in Lone Star Junior Championship 11-12 Division (75-75-150)
Hurricane Jr Golf Tour Canton Junior Classic Champion 13U Division
IMG Junior World Top 5 9-10 Division (70-76-74)
Hurricane Jr. Golf College Prep Series at Michigan State Champion
Florida Junior Tour Champion at Orange County National 9-10 Division (75-76)
JGS #1 Ranked Player for Class of 2026