2022 junior USGA Girls Championship coverage
Learn More About Gianna Clemente's 2nd Place Finish at the Junior USGA Championship by clicking the videos above.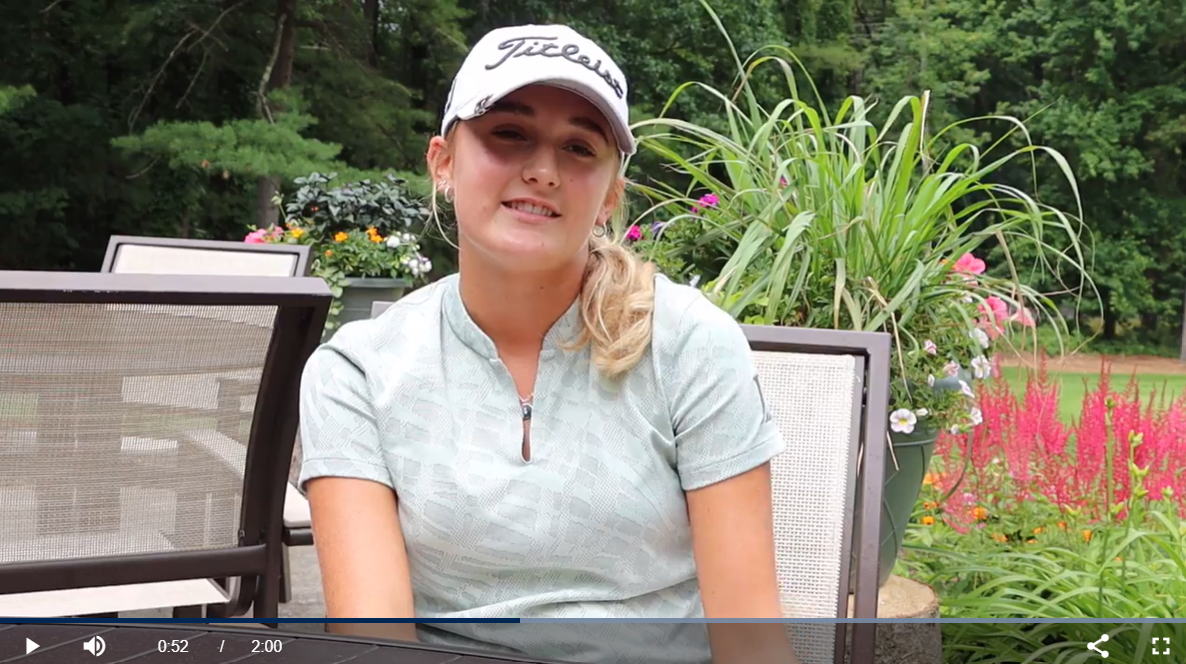 14-YEAR-OLD CLEMENTE STEPS UP TO THE BIG STAGE
Gianna Clemente earned one of the two sponsor invites to play in the Twin Bridges Championship this week. The 14-year-old will tee it up in Albany, New York as the youngest player in the field.
"When I found out I got the exemption, I was really excited," said Clemente. "I'm really excited about this week, to see the course and have some fun."
The Floridian plays on one of the biggest junior golf tours, the American Junior Golf Association. Currently No. 6 in the Rolex AJGA Rankings, Clemente has five top-10 finishes on the 2022 season, including solo third at the K.J. Choi Foundation Texas Junior Championship presented by Mediheal and sixth at the KPMG Stacy Lewis Junior All-Star Invitational. Most recently Clemente finished second at the Rolex Girls Junior Championship.
2021 Dustin Johnson World Junior Golf Championship – Round 1 Girls Co-Leaders
11-Year-Old Gianna Clemente Relishes First USGA Championship
As golf spikes among junior girls, parents can realize the price of passion
Patrick Clemente has photos of his daughter Gianna, then 18 months, holding a putter at their club outside Cleveland. "She's not putting, but it's a cute photo," he says. It also turned out to be prescient.
A month after she turned five, Gianna played in her first tournament. At seven she won the U.S. Kids World Championship at Pinehurst. Last August, she was the third youngest player ever to play in the United States Women's Amateur. She is now the top-ranked 11-year-old in the country.
Clemente, 11, Embracing Spotlight at Old Waverly
The first thing Gianna Clemente noticed when she arrived for the 119th U.S. Women's Amateur Championship at Old Waverly Golf Club was the players' lounge. There were lockers, beverages and sweets. Lots of delights that any 11-year-old would relish.
Before her Sunday practice round, she asked her father, Patrick, if she could grab an ice cream bar.
"I've never been treated this way before," said Clemente. "It's amazing."
An 11-year-old golfer qualifies for U.S. Women's Amateur, becomes third-youngest qualifier in history
11-year-old becomes third-youngest golfer to qualify for the U.S. Women's Amateur
Chasing History: Warren's Gianna Clemente proving herself as one of top junior golfers in the world
Young Clemente wins in Florida
Fans watching the PGA Honda Classic this year might see a familiar face.
No, not Jordan Spieth, Dustin Johnson or Ricky Fowler. Not even Tiger Woods.
Sure, those players might be a part of the event, but that's not the person Mahoning Valley natives should notice. It's a 9-year-old girl named Gianna Clemente.
The daughter of Pat and Julie Clemente, Gianna, from Howland, will be honored at the Honda Classic after she won the junior version of the tournament in West Palm Beach, Fla.
Gianna, who won a world championship at the age of 7, competed in the 10-and-11-year-old division and won by one stroke over Avery Zweig, the top-ranked 10-year-old in the country. Maybe even more impressive is that while Gianna, who shot even par, edged Zweig, she finished 15 strokes better than the rest of the field.
"It was a great win for her, and she played up (an age group)," said Pat Clemente, a Hubbard High School graduate who played golf at Youngstown State University. "She's still 9. She played up in the 10-and-11-year-old division, which is pretty common for her. She mostly plays up, just to play against older kids and longer yardages. It helps her development."
Maybe the best part is Gianna being part of the PGA Honda Classic, which takes place Feb. 22-25 in Palm Beach Gardens, Fla.
How teens (barely) sent accomplished veterans home in first round of the U.S. Women's Amateur Four-Ball
Barely teenagers Gianna Clemente and Avery Zweig, the two youngest competitors in the sixth U.S. Women's Amateur Four-Ball, were plotting a Monday night itinerary of ice cream sampling and who's-next strategizing after defeating veterans Dawn Woodward and Megan Stasi, 3 and 2, in the opening round at Maridoe Golf Club in Carrollton, Texas.
AJGA JUNIOR AT BIG SKY
Clemente ties AJGA 54-hole record and secures second win
Girls Division Champion: Gianna Clemente of Warren, Ohio (16-under-par 200)
Tied AJGA 54-hole record in the Girls Division
Broke 54-hole tournament record at Big Sky Golf Course
Broke 18-hole low round record at Big Sky Golf Course (64)
19 birdies during the tournament
Second AJGA Win
2020 Rolex Junior All-American
No. 50 in the Rolex AJGA Rankings
2026 Grad
Gianna might be best golfer in family
I'm excited to share a little "closer to home" story about a young lady, about a world champion, named Gianna Clemente. For me personally, I grew up playing junior golf sandwiched between Patrick (the older brother) and Colin (the younger brother) Clemente. Both were really good junior players (I have to protect superlatives like "great" and "phenomenal" for the next Clemente generation) who went on the play in college. Patrick at YSU and Colin at Akron. Two collegiate golfers from one family says a lot. But world champions? Sorry old friends, but Gia is taking the family pastime to a whole new level! I reconnected with Gia's dad Patrick to discuss Gia's victory last week and her progress within the sport. If you read my column regularly, you know I'm more of a story teller than a stat reciter. So here's my take away from my conversation with an old friend, who just happens to be the proud dad of the world's best 10-year-old girl golfer. LEARN MORE